Posted by
hair_ninja on 2010.01.09 at 15:33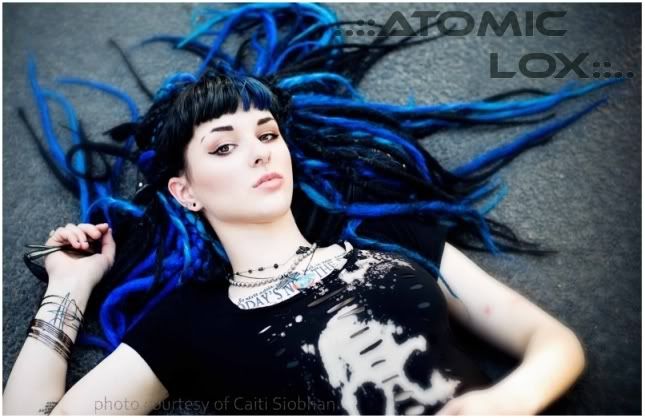 SYNTHETIC DREAD EXTENSIONS :: FALLS :: ACCESSORIES
1.09.10 - The hubby and I wanted to combine talents and it's much easier to run everything under one name and one business!! Most pricing will stay the same, if not drop a bit and we'll be running specials ALL THE TIME!!! Sign up for an account at etsy.com and heart us, or follow us on TWITTER for news and inside info on specials and sales!!
NEWS:
8.23.09 -
ALox is now on MYSPACE
.
[edit: I can't even remember how to get in to that account. Myspace hurts my eyes. I can't handle it, so NEVERMIND I LIED.]
ALSO in the news this week, We're having a promotional sale of sorts for those of you wanting something outrageous and awesome to go with your Halloween costume! I have
5
4
openings for CUSTOM HALLOWEEN ORDERS AT 10% OFF!!. This goes for both SYNTH as well as WOOL. Grab those slots while they're hot!

ORDERS MUST SUBMITTED BY OCTOBER 1ST, MIDNIGHT TO QUALIFY.
8.01.09 - Finished felting and dyeing!
(
feast your eyes!
Collapse
)
Expect much more of that in the future. ;)
7.27.09 - Taking a break for a few minutes from working on my roving... my hands are killing me!! These are going to be so much fun, I can't wait to really perfect them and start busting out some awesome sets. Must run to the store for more koolaid!
7.24.09 - New layout, moving some things around.
Thanks to Caiti for her gorgeousness and superior photo-skills!
Don't forget to add us for the first word on sales and new items!
Also, I've been dabbling in WOOL DREADS!! Who's excited?!
Edit: Woollies are coming out AMAZING. Look for hand-painted falls
and such, coming soon!